The Lesson Plan Archive
For more lesson plans visit the archive.
The Ask Thomas Archive
More questions and answers in the ATarchive.
Job Boards and Forums
Join the Discussion Forums
and look for a job.
Easy ESL Crosswords
A collection of ESL crosswords put together by Lanternfish ESL: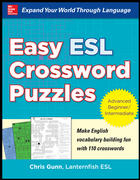 Lanternfish Crosswords:
Great for building vocabulary and testing grammar and a lot more fun than a test. Good for both ESL and K7. Get kids using a dictionary and teach them independence in learning. Just click, print, and copy!